Which Hybrid Is Right For You?
Helping Pasadena Area Drivers Choose the Kia They Need
With different types of Hybrid and Electric model Kias available, it can be difficult to choose the fuel-efficient Kia that's best for you. Thus, we at Community Kia figured we'd lend you a hand. With a little help from us, you'll be able to choose an EcoDynamic Kia in no time. From fully electric vehicles to Plug-in Hybrid Electric models and classic Hybrid Electric models, you have three main categories to choose from. So, we're here to tell you what you need to know.
The Breakdown
Since you live in Texas–-and can purchase a Soul Electric Vehicle--you'll have all three vehicle options at your disposal when you decide to go shopping. The pivotal question is: will you be using this vehicle for long road trips? Though this is not the only factor to consider, the three options differ in terms of practicality (depending on your lifestyle preferences and travel plans).
When it comes to choosing between a Plug-in, a 100% electric vehicle, and a Hybrid Electric Vehicle, you have to consider a few main questions: how far will you go, are you willing to stop to charge/ will you have access to charging stations, and do you want a 100% electric vehicle that's completely gasoline-free? If you're not the kind of person who will stop to charge his/her vehicle, avoid the Plug-in. If you want a 100% gasoline-free choice (and often stick to local commuting), the Electric Vehicle may be your best bet. And for those who want a fuel-efficient ride that can go the distance, stick to the old school Hybrid Electric Vehicles.
We at Community Kia near Pasadena hope you find the infographic below helpful. If you have any questions, feel free to contact our Kia dealer near Pasadena at (281) 725-6632. We are ready and willing to answer any questions you may have.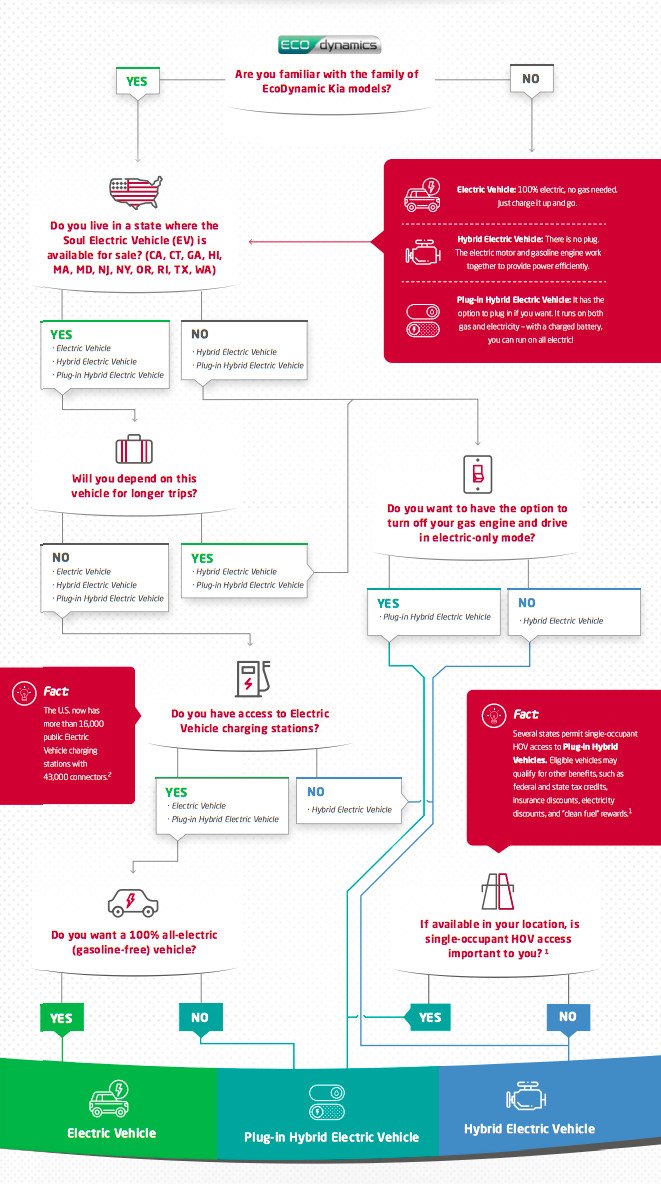 Sales Hours
(832) 612-3807
| | |
| --- | --- |
| Monday | 9:00 am - 8:00 pm |
| Tuesday | 9:00 am - 8:00 pm |
| Wednesday | 9:00 am - 8:00 pm |
| Thursday | 9:00 am - 8:00 pm |
| Friday | 9:00 am - 8:00 pm |
| Saturday | 9:00 am - 8:00 pm |
| Sunday | Closed |